'Brady Bunch' and child star actress Debi Storm has no career regrets
offBeat with PHILIP POTEMPA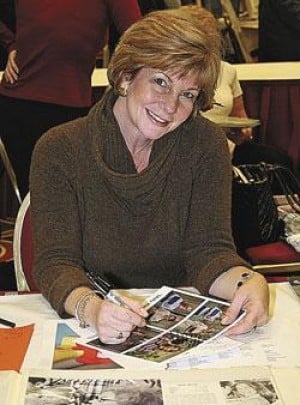 March 18, 2008 12:00 am
•
Memorable make-over
Actress Debi Storm has her very own moment in TV pop culture history.
Though Storm has played in many films and starred on a variety of television series, ranging from "Dr. Kildare," "The Big Valley" and "Green Acres" to "Dallas" and "The Fugitive," it's her guest-starring role 35 years ago on a March 3, 1972, episode of "The Brady Bunch" titled "My Fair Competition" that often attracts the most attention.
Storm played a "plane Jane" named Molly Webber, a young high school friend of oldest Brady daughter Marcia. When the school students play a joke by nominating "unpopular" Molly to be the school hostess at a dance function, Marcia decides to help her friend's self-esteem by transforming Molly into a vision of beauty, with new clothes, fluffy hair and sans her Coke-bottle glasses.
After tasting the sweet lure of being popular, Molly's ego swells so much, she begins to challenge Marcia's own popularity, informing her: "It doesn't make any difference how I got here Marcia, the point is...I've arrived."
Storm, who was in Chicago over the weekend, chatted with me about the rollercoaster excitement of having a career as a child star.
In fact, it was Storm who originally was hand-picked by "Brady Bunch" producer Sherwood Schwartz to play the long-suffering middle Brady daughter Jan, until he decided to cast all blondes for the roles.
"I had a great time growing up and working in film and television," Storm said.
"I was very fortunate that I had a mother who helped make it such a great experience. It all has to do with the people around you. Don't blame it on the business."
And while working with greats like Bob Hope, Phyllis Diller and Jonathan Winters on the 1967 movie "Eight on the Lam," she admits she also faced a few costars on other projects who weren't happy about having to work with kids, such as actors Robert Culp and David Janssen.
"I've talked with so many other actors and actresses who began as child stars, like Todd Bridges from 'Different Strokes' and Lauren Chapin, who played the youngest daughter in the TV series 'Father Knows Best,' " Storm said.
"And their experiences weren't' always as positive as what I encountered while growing up on a set. I feel very grateful to have worked so long in this business and worked with so many greats from TV and film."